ALBERTO ROMANO GUARNIERI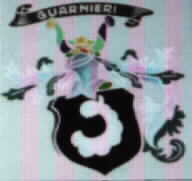 In the recordings of the international Coat-Of-Arms Register, Volume III, Italy, page 88, the following is noted under the name of GUARNIERI.
GUARNIERI
In 1602, the merchant and owner of large real estate, Alberto Romano GUARNIERI was bestowed the coat of arms letter [ Wappenbrief ] in recognition of his outstanding achievements in promoting commerce. A.R. GUARNIERI was one of the first merchants who helped to establish extensive trade with the orient. As the first merchant he succeeded in carrying out continuous shipments of animals in quantity in distant countries with the approval of the authorities.
Later generations of this family also were noted as successful merchants, Descendants migrated to England, France, Canada, and later to the United States.
COAT OF ARMS
Coat of Arms: On black ground, old Sicilian shepherd's horn in white.
Ornament:Ribbons in green - blue - white - ,encircling the shield.
Helmet: A twin buffalo horn in gold and blue, in the center a small golden crown.
SPECIAL THANKS TO: MRS. HARRIET { GUARNIERI } ROGERS, FOR THE PHOTO,AND DESCRIPTION STORY OF ALBERTO ROMANO GUARNIERI'S COAT OF ARMS....

BACK TO THE GUARNIERI HOME PAGE